Book Esther for an Outdoor Party or a Virtual Event!
*Add $100 and She'll Write a Personalized Song About Your Child and Sing it at the Event!
Ask Esther to Write a Song for your Child and Send you a Video!
Park Parties! Book Esther  for an outdoor party! As long as the weather is clear, and it's above 45 degrees*, Esther loves entertaining in both Riverside and Central Parks! She and her puppets will also come to your *outdoor* event space.  (Prices may vary depending on location.) Each party is packed with interactive songs- both acoustic guitar songs, and songs with groovy backing tracks- her signature puppets, rhythm games and/or finger play (for baby parties!), and a DISCO scarf dance! Each party-goer will also receive a Thunder & Sunshine CD. For $100 extra: Esther will write a personalized SONG for your kid! (Terms and Conditions apply). Offer good for ages: 0-8 years old.
Prices: $300 for 30 minutes; $350 for 45 minutes; payable by Venmo, PayPal or Cash on the day of event.  JANUARY DISCOUNT: $25 off  if you book by 1/31/21- good for any available date in 2022. Please email Esther for availability and more info: estcrow@gmail.com 
*If you book an event and the weather is either inclement or too cold, you can cancel or reschedule at no penalty. You may also switch to a virtual event for a lower fee (see below).
Virtual Parties! Book Esther for a 30-minute virtual party over Zoom! For this option, you can choose either a MUSIC party, or a PUPPET-MAKING party.  For $100 extra: Esther will write a personalized SONG for your kid! (Terms and Conditions apply.)
Music parties are similar to in-person parties, and include interactive acoustic guitar songs, songs with groovy backing tracks, rhythm games and finger play (for baby parties!), and her signature puppets. If there's a theme to your party, Esther can adjust her background to match your theme!
Puppet-making parties are for kids who want to get CRAFTY! (These are best for children 4-8 yrs old.) You can choose a puppet-type based on a party-theme (for example: robot puppets, animal puppets, etc) or have Esther help you decide what kind of puppets to make. The most popular kind of puppets are paper-bag puppets, but kids are also encouraged to make puppets out of recycled cardboard items such as: paper towel rolls, toilet paper rolls, tissue boxes, toothpaste boxes, cereal boxes, etc. Use your GREEN imagination and RE-USE as much as you can! See the photo of Sloane, below, who made a very cute paper-bag bunny in one of Esther's virtual classes last April.  See also the below promo (for a past class series) for other examples of puppet-types.
Price: $275 for 30 minutes*JANUARY DISCOUNT: $25 off if you book by 1/31/21- good for any available date in 2022.
Personalized Songs! Ask Esther to write a short song (1-2 minutes) for your child and send you a YouTube video! Video settings may be negotiated at time of booking. (Options are: private, public or unlisted.) Terms and conditions apply.
Price: $200 per video. Please email Esther for more information and bookings: estcrow@gmail.com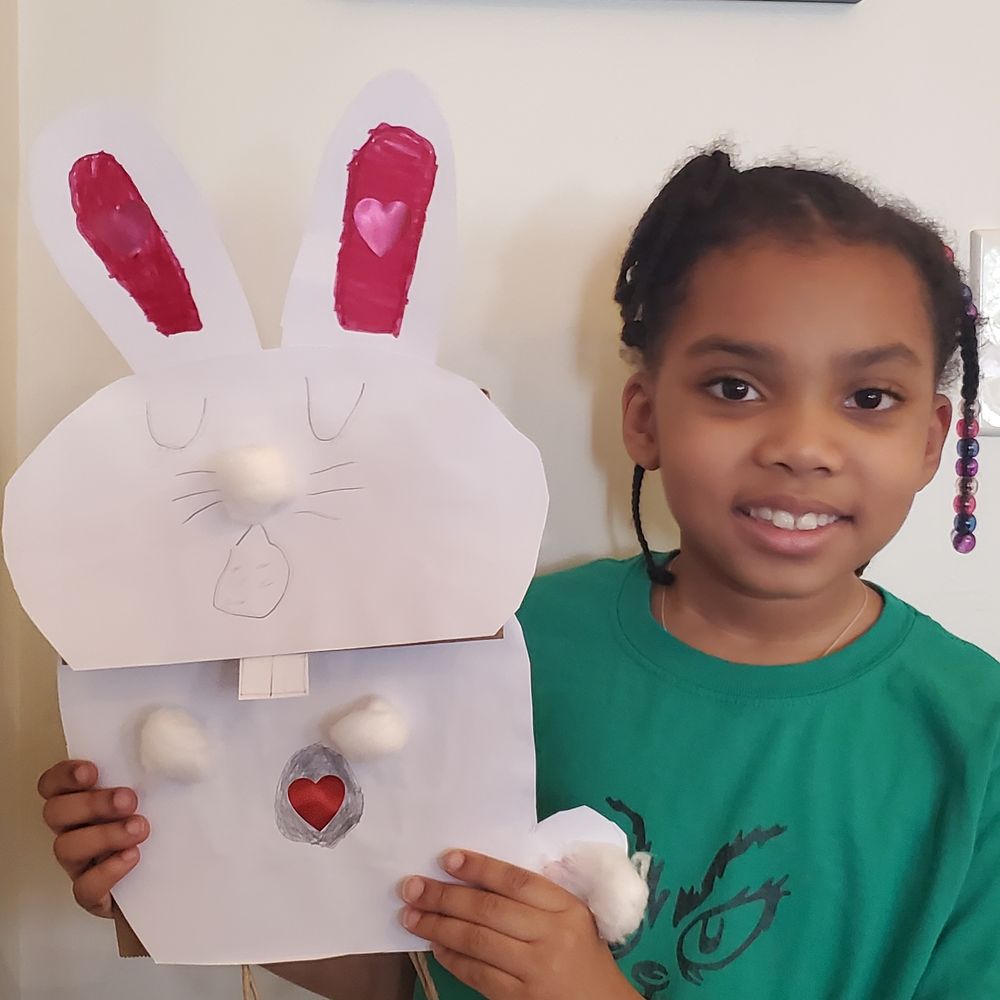 "My two daughters (currently 4 and 6) have been fans of Esther's for years. We go to her concerts whenever we can. We did her virtual puppet-making and music class during Winter 2020/2021 and it was such a great experience. Esther kept my kids engaged with creative activities and was able to coach them over Zoom with whatever materials we had around the apartment. They still play with their puppets months later and started making puppets on their own. My older daughter loved the class so much she didn't even mind being quarantined for her 6th birthday, she was just happy she had a class with Esther!" (Deena, mom of Melissa and Alina) 
 "My daughters (2&4) have both attended and loved Esther's music classes. She is incredibly engaging and pulls them right into whatever she is doing. She manages to meet the needs of children of all ages in once class which we found to be truly remarkable. My girls love Esther's original music so much that it's often requested that we play it on Spotify in our apartment. This is something that as parents we appreciate so much because we enjoy listening to the music, too! 
Esther also performed at our daughter's birthday party and all of the children had a great time. She entertained a group of children of all ages and many of the parents and grandparents commented on how fun and entertaining Esther was to watch." (Adrienne, mom of Maise and Zara)
"Your music classes have been an invaluable Covid-safe activity for this new mom and baby! Harriet has gotten so much out of your music, not just in class but at home and in the car, too! I'll always treasure how she learned to "bop" up and down in your class :)" (Catherine, mom of Harriet)