Esther is available for Library Shows, School Events, Corporate Events, Museum Events, Outdoor Shows, Indoor Shows, You name it! Contact Esther for rates and availability.
Esther performs regularly as a solo act (with puppets!) and also with her family: The Crow Family Band. 
Puppet Parties with Esther! *See Below for Special Holiday Rates!*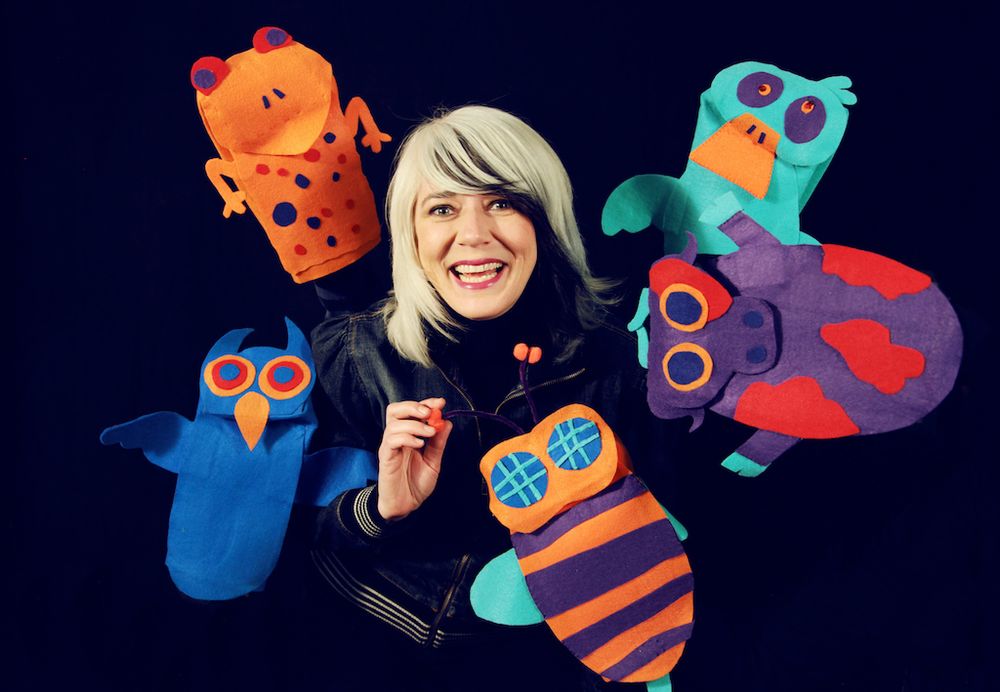 Book Esther for your Child's Birthday (or any other) Party!
Book Esther  & her puppets for a party!  Esther is excited to perform at your outdoor or indoor party (for our collective health: please make sure all party-goers are Covid-symptom free and that there is proper ventilation for indoor events!). For park parties: As long as the weather is clear, and it's above 45 degrees*, Esther loves entertaining in both Riverside and Central Parks! She and her puppets will also travel to all 5 boroughs  (*add $50 for commutes longer than 45 mins.) Each party is packed with interactive songs- both acoustic guitar songs, and songs with groovy backing tracks- her signature puppets, rhythm games and/or finger play (for baby parties!), and a DISCO scarf dance! Each party-goer will also receive a Thunder & Sunshine CD. 
*HOLIDAY SPECIAL (Must book by January 31st, 2023 for party dates between January 1st- April 30th, 2023): Prices: $300 (normally $350) for 30 minutes; $350 (normally $400) for 45 minutes; payable by Venmo, PayPal or Cash on the day of event. No deposit required. Please email Esther for availability and more info: estcrow@gmail.com 
*Cancellation policy: there is no penalty for cancelling due to illness. For outdoor parties: if weather on day of party is inclement or too cold, we can reschedule (pending availability).
Virtual Parties! Book Esther for a 30-minute virtual party over Zoom! For this option, you can choose either a MUSIC party, or a PUPPET-MAKING party.  Music parties are similar to in-person parties, and include interactive acoustic guitar songs, songs with groovy backing tracks, rhythm games and finger play (for baby parties!), and her signature puppets. She also takes requests, with advance notice!
Puppet-making parties are for kids who want to get CRAFTY! (These are best for children 4-8 yrs old.) You can choose a puppet-type based on a party-theme (for example: robot puppets, animal puppets, etc) or have Esther help you decide what kind of puppets to make. The most popular kind of puppets are paper-bag puppets, but kids are also encouraged to make puppets out of recycled cardboard items such as: paper towel rolls, toilet paper rolls, tissue boxes, toothpaste boxes, cereal boxes, etc. Use your GREEN imagination and RE-USE as much as you can! See the photo of Sloane, below, who made a very cute paper-bag bunny in one of Esther's virtual classes last April.  See also the below promo (for a past class series) for other examples of puppet-types.
Price: $300 for 30 minutes*